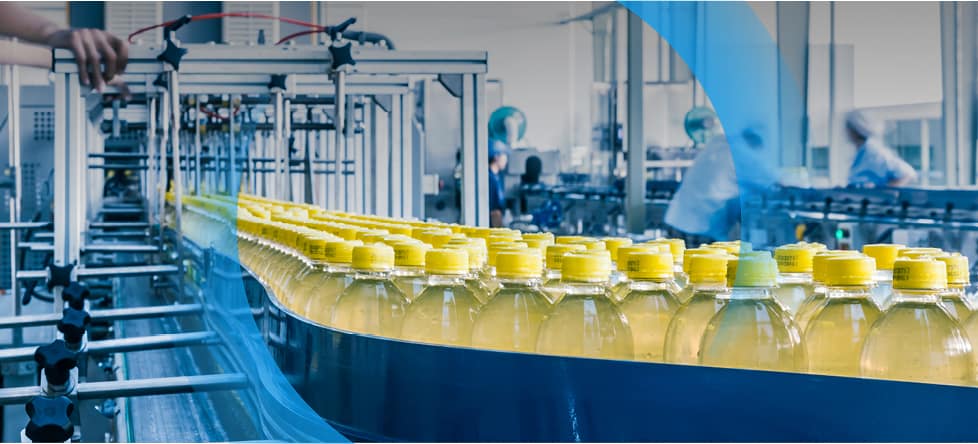 Sanitary or hygienic seals are widely used in the biotech, pharmaceutical, dairy, food & beverage, industrial and semiconductor industries to seal clamp connections in sanitary pipelines. Some environments, such as pharmaceutical and food handling production lines, need longer lifetime sealing solutions that are FDA compliant.
Thousands of gaskets can be used in one beverage or bio-pharma manufacturing line, placed in-between flanges and fitted with a clamp for easy handling. They are also subjected to harsher environments such as Water for Injection (WFI), Clean-In-Place (CIP) and Steam-In-Place (SIP) processes, where excellent resistance to process chemicals is required.

Typical problems experienced in sanitary seal applications
There are a number of challenges with current non-FFKM solutions such as PTFE encapsulated seals, EPDM and VMQ including limited thermal and chemical resistance, high stiction, low hardness vs. clamping mechanism combined with no controlled compression results in intrusion into the processing line, and dead space which leads to a high risk of contamination. The cold flow of PTFE results in leakage, unless seals are continuously retightened.

Rubber loses its elasticity and sealing force. Contact surface is eroded which may lead to particle contamination.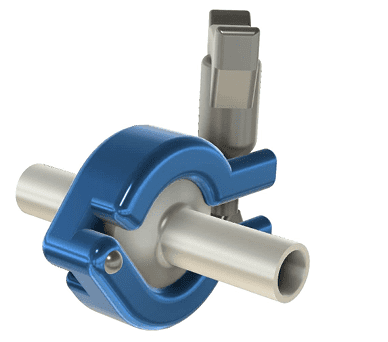 That's why Dupont™ developed Kalrez® LS390 sanitary seals, ideal for sealing solutions which ensure isolation of the drug and/or food slurry from the external environment. Manufactured from FFKM and easily identifiable thanks to its unique grey color and it has a number of key advantages:
Excellent chemical resistance to process chemicals (WFI, SIP and CIP)
Application temperature up to 220 °C (428 °F)
Low stiction and very good mechanical properties – no extrusion under normal conditions and easy disassembly
Long seal life and tighter sealing than in incumbent elastomers
Improved flavor transfer resistance compared to EPDM and FKM seals
| | | |
| --- | --- | --- |
| Volume change after aging at 95C for 168hr | Kalrez LS390 | General EPDM |
| CIP ECOLAB AC-101 (5% diluted: NaOH solution) | +4% | +22% |
| CIP ECOLAB HOROLITH (5% diluted: HNO3) | +17% | +46% |
| CIP ECOLAB Oxonia Active (5,000 ppm Paracetic acid) | +5% | +43% |
Kalrez® LS390 provides longer seal life and tighter sealing than lower end performing elastomers which improves productivity and process optimization as well as creating a safer environment in the day to day running of a pharmaceutical manufacturing facility.
The benefits can be clearly seen in this case study of a major Japanese pharmaceutical manufacturer, cited by Dupont™. Kalrez® LS390 has successfully been used in a Japanese infusion-drop product operation that used pure-steam SIP. In this instance, the manufacturer chose Kalrez® LS390 because of its improved chemical resistance and low stiction performance. The company had previously experienced problems with its existing material (silicone rubber seals), which had issues with steam resistance, high stiction and a maintenance period of six months. After switching to Kalrez® LS390, the performance improvements were substantial. Kalrez® LS390 sanitary seals provided excellent resistance to chemicals and pure steam SIP. The sanitary seals lasted a year without any damage on the contacting surface, which increased productivity, lowered maintenance costs and minimized unscheduled downtime, resulting in a lower total cost of ownership.

All seals and flanges are FDA, USP Class VI at 121°C and Japan Pharmacopeia compliant and also comply with ASME BPE, BS4826, DIN32676, ISO2852 and ISO1127 standards. All these features give Kalrez® LS390 a great performance advantage over existing elastomers and makes it the optimal choice for OEMs and life science manufacturers.
Interested in learning more?  Speak to us about your application.