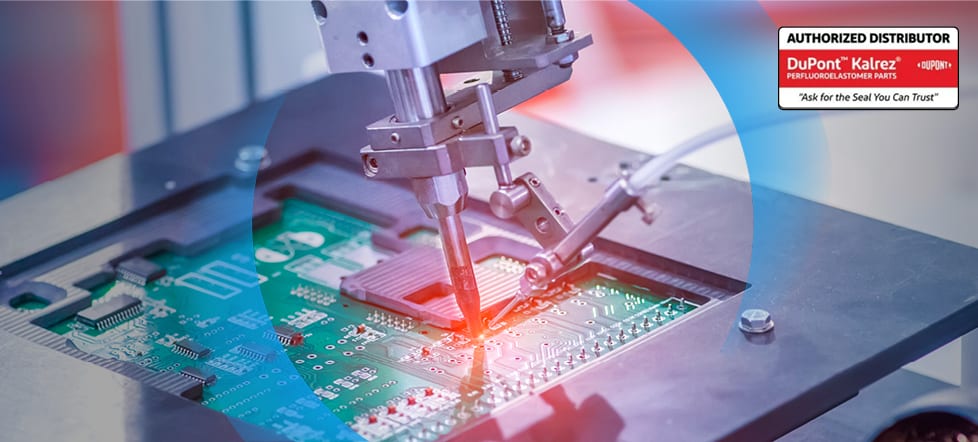 Rubber materials can be adversely affected by ongoing exposure to UV radiation, as it affects the molecular structure of the material which causes it to break down or degrade. Both physical and chemical changes can occur in natural and synthetic polymers such as some rubbers, causing it to crack, lose flexibility, weaken, fade and ultimately, even disintegrate.
Fluid and Chemical Resistance
Kalrez® perfluoroelastomer parts withstand more than 1,800 chemicals, solvents and plasmas. Standardizing with Kalrez® products for broad chemical resistance reduces the need to keep multiple materials in stock and therefore lowers cost of inventory.
Sealing Force Retention
ISO 3384 tests have shown that even under harsh and aggressive conditions, Kalrez® will retain its sealing force longer than other solutions.
Compression Set
Kalrez® parts exhibit low compression set, maintaining their elastic recovery to maintain tight seals longer. Because Kalrez® Spectrum™ 7075 parts recover better under compression than many other perfluoroelastomers, they tend to maintain their shape better under prolonged stress.
Temperature Resistance
Kalrez® retains its elasticity and recovery properties better than other high temperature elastomers, and Kalrez® 7075 retains it even after long-term exposure to temperatures up to 327 °C.

The Economics of Elastomeric Seals
The drive to reduce costs and environmental concerns have caused many design and processing engineers to turn to perfluoroelastomer sealing parts as the most cost-effective sealing solution. The value-in-use of perfluoroelastomers can be proven in operating conditions where conventional elastomers fail. Even under less arduous conditions, DuPont™ Kalrez® perfluoroelastomer seals can be the best solution, as they can last significantly longer than conventional sealing solutions, according to DuPont™.
When considering the economics of elastomeric seals, it is vital to look beyond the cost of the seal itself and compare the total cost related to the sealing solution. The total system cost in use is the sum of the cost of O-ring seal + installation cost + downtime cost (including loss of productivity through leakage + clean-up costs).
Average Lifetime Extended from One Day to Two Months!
When O-ring seals fitted to a Dow AgroSciences product filling line, processing solvents, surfactants and concentrated herbicides at temperatures ranging from 10 °C to 45 °C, and pressures from 1.5 to 3.5 bars Eff were changed from dynamic O-rings of PTFE (Polytetrafluorethylene) to Kalrez® Spectrum™ 6375 perfluoroelastomer O-rings, it extended the lifetime from one day to an average of two months.
The difference in performance between non perfluorelastomer seals and Kalrez® perfluoroelastomer seals that need to be replaced repeatedly can be clearly seen below: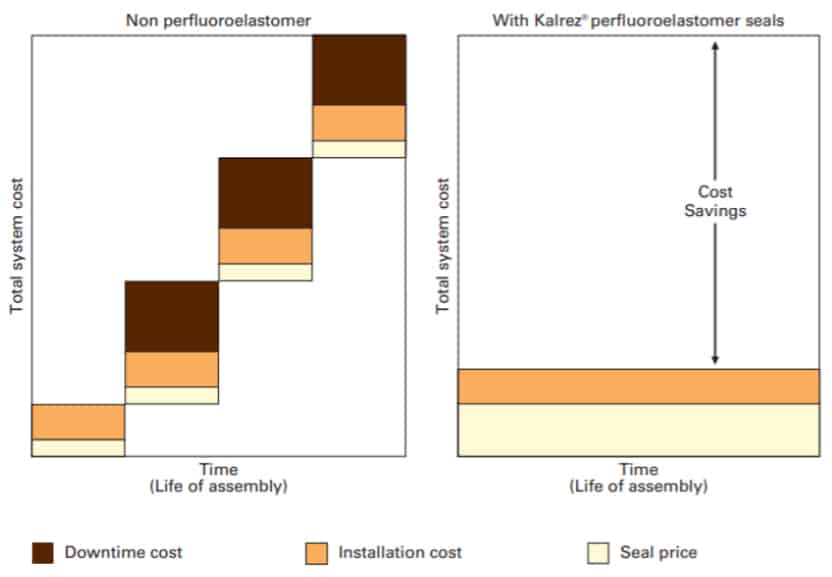 When comparing the total cost related to sealing solutions, DuPont™ Kalrez® parts are often the more efficient choice, as they last longer, reduce downtime and increase MTBR. They also add to increased safety on production sites, helping to avoid unplanned leakages and reduce environmental risks.
In summary, the overall advantages choosing Kalrez® are dramatic cost savings due to elimination of downtime, increased operating uptime, improved overall reliability of packing line and reduced maintenance.

Visit our page on FFKM Kalrez® for more information.
Interested in learning more? Techno Ad is an authorized distributor of DuPont™ Kalrez® products. Talk to us about your application.