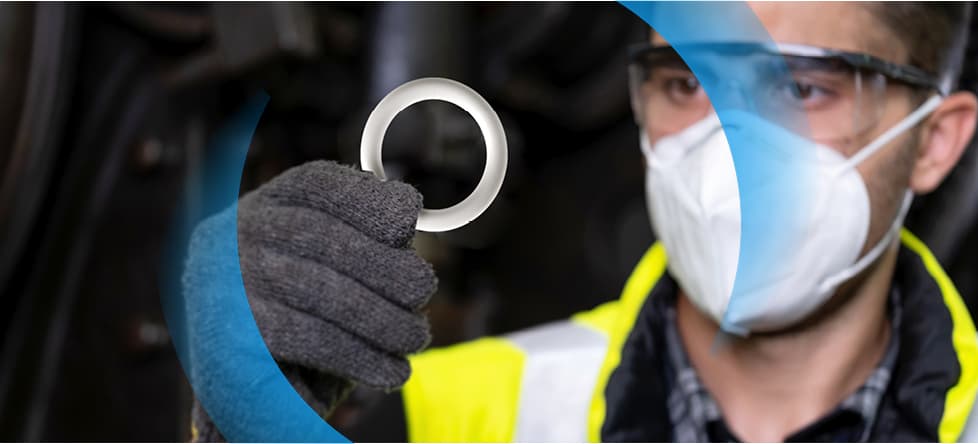 When you are looking for rubber sealing products for your project, it's important to understand which material is best for you. Today, we will look at silicone and fluorosilicone, two variations of rubber that have their own unique properties and different benefits.
Before you decide which material is best for your project, it's important to understand the difference between these materials and which applications each is used for.


What's the difference between Fluorosilicone and Silicone?
Silicone (VMQ) is made of silicon, an element derived from quartz. This synthetic elastomer is created from pendant organic groups such as methyl, phenyl, and vinyl attached to silicon atoms. Silicone has excellent heat and ozone, has high dielectric stability, and is resistant to many oils, chemicals, and solvents. It is one of the best elastomers for flexibility at low temperatures. It performs well in engine and transmission oil, diluted salt solutions, moderate temperature water, and dry heat.
Fluorosilicone (FVMQ) is a type of silicone rubber that remains stable in high temperatures and can withstand harsh weather environments and ozone. It also offers improved fuel and mineral oil resistance, but poorer hot air resistance than standard silicone. Fluorosilicone excels in fuels, aromatic mineral oils, benzene, toluene, and chlorinated and aromatic hydrocarbons.
Both standard silicone and fluorosilicone are usually peroxide-cured. Silicone can also be platinum-cured, which offers better flexibility and very low volatile matter, making it useful in medical systems or other areas that require low volatile matter. Platinum-cured silicone must be produced in a clean room with a platinum catalyzer, making it more expensive than silicone cured with peroxide.
Of course, both materials also have weaknesses. Both rubbers are limited by their poor abrasion resistance and high friction characteristics. Because of these limitations, they aren't recommended for dynamic sealing. Additionally, both rubbers are susceptible to ketones. Silicone also does not work well in concentrated acids and alkalis, petroleum oils and fuels, or in steam environments over 120 degrees Celsius. Fluorosilicone, on the other hand, is vulnerable to brake fluids, and hydrazine.
Let's dive deeper into their material properties:
Fluorosilicone
Silicone
Temperature resistance for Standard Compound
-60°C (-76°F) to 177°C (350°F)
-60°C (-76°F) to 225°C (437°F)
Temperature resistance for Special Compound
-60°C (-76°F) to 232°C (450°F)
-100°C (-150°F) to 300°C (572°F)
Hardness
40 to 80 Shore A
20 to 80 Shore A
ASTM D1418 Designation
FVMQ
Q, MQ, VMQ, PVMQ
ASTM D2000 Designation
FK
FC, FE, GE
Standard Color
for shelf items
Blue
Rust

Which industries use fluorosilicone and silicone?
Different industries prefer to use different materials depending on specific requirements and compliance needs.
Silicone is highly resistant to temperatures, chemicals, and radiation used in sterilization processes for food and medical equipment, making it an ideal product for the food and medical industries. It's also used for semiconductor, and in products for irrigation & military.
Fluorosilicone is often used in aerospace fuel systems because of its distinct resistance properties. It is also often used in static sealing applications and automotive fuel systems.

Which material is right for you?
Techno Ad offers custom shapes and standard O-rings, cords, and other parts from both fluorosilicone and silicone.
We'd be happy to chat with you to help you decide which material is right for you. Contact us to speak to our experts.