When our clients ask us for Viton™, what they are often looking for is actually FKM. But while they have a lot in common, they're not exactly the same thing. Viton™ is often used interchangeably with fluorocarbon (FKM) rubber for historical reasons: fluoroelastomer, marketed under the brandname Viton™, was first introduced to the market by Dupont in 1957 to meet the stringent needs of the aerospace industry. Today, Viton™ is marketed by the Chemours Company, founded in 2015 as a spinoff of Dupont.
What is FKM?
FKM is a family of fluoroelastomer materials defined by the ASTM international standard D1418. FKM performs well in harsh environments, particularly those with extreme high temperatures and aggressive chemical interactions such as petroleum products, fuels or blends with methanol or ethanol, diesel or blends with biodiesel, mineral oil and grease, silicone oil and grease, high vacuum environments, ozone, and strong acids.
There are a wide variety of FKM compounds available from many high quality and reliable sources including Chemours, Solvay, 3M, Asahi Glass Company, Daikin Industries and Gujarat Fluorochemicals Limited.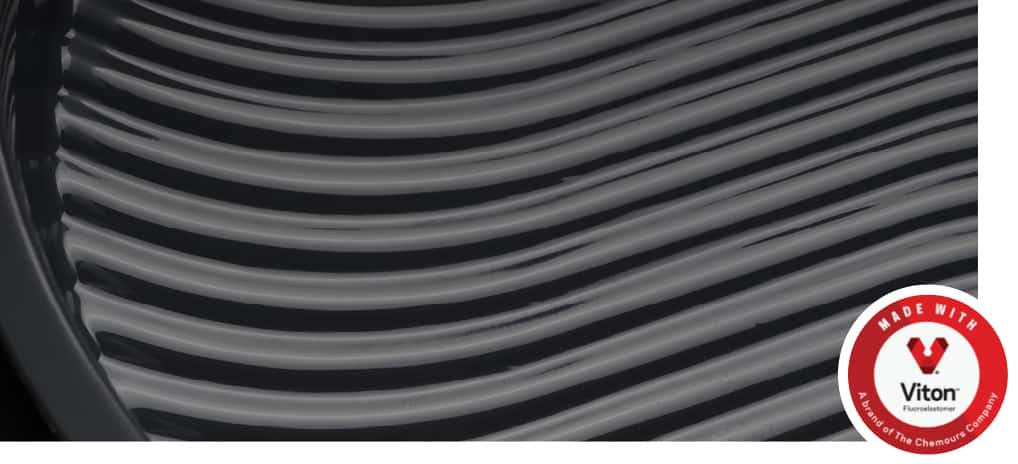 What are FKM's limitations?
FKM rubber compounds are susceptible to amines, alkalis and ammonia gas; superheated steam; low molecular organic acids such as formic and acetic acids; and glycol-based brake fluids. When it comes to resistance to resistance to low temperatures, resistance to permanent indentation (hardness), and elongation capabilities, it doesn't rate as well as other elastomers. In fact, choosing the wrong FKM for a demanding application will almost certainly result in failure.
Why use FKM for O-rings and other seals/gaskets?
By comparison to other commercial rubber, FKM —​
| | | |
| --- | --- | --- |
| | |   |
| Offers the best fluid resistance of any commercial rubber. | Retains good mechanical properties & remains elastic at high temperatures. | Maintains its resistance to oils and chemicals at high temperatures. |
What are Viton's key characteristics?
Viton™ has excellent resistance to oils, fuels, lubricants and most mineral acids; aliphatic, aromatic hydrocarbons that dissolve other rubber; atmospheric oxidation, sunlight, and weather; and even fungus and mold. It has low permeability (particularly in oxygenated automotive fuels), low burning characteristics, and also displays good electrical properties, in low voltage, low-frequency applications.

What's the difference between Viton™ and FKM?
All FKM polymers are not made equal. Chemours divides its compounds into five major types: A, B & GBL, F & GF, GLT & GFLT and ETP. The standard types of Viton™ fluoroelastomer products are designated as A, B, or F according to their relative resistance to fluids and chemicals.
Depending on the type (grade) the percentage of fluorine varies, which has an impact on its resistance to chemicals. As the fluorine level increases, it's flexibility at low temperatures decreases. See a full product comparison here.
Solvay, a leading manufacturer of FKM-based materials, also ranks Technoflon®, their range of fluoroelastomers, into different grades based on viscosity, fluorine content, chemical resistance and more. Their highly resilient synthetic rubbers are designed to retain their shape, strength and flexibility in aggressive environments and at extreme temperatures.
Why ask for genuine Viton™?
Beyond stipulating that you want genuine Viton™ when requesting a quotation or placing an order, you need to understand the performance differences between the different product families. Chemours differentiates between products based on their resistance to amines or caustics, resistance to hydrocarbon fluids, and flexibility at low temperature.
While Viton™ seals carry a higher price tag, they are extremely durable and last longer than their less expensive counterparts. Reducing downtime by investing in a Viton™ seal makes sound economic sense in high-tech production lines such as those found in the semiconductor industry. The loss in productivity caused by downtime while seals are changed is exponentially greater than the cost of the seals.
As a class, fluoroelastomers may be more expensive than neoprene or nitrile rubber elastomers, but they do provide additional heat and chemical resistance — a must in the challenging conditions found in the automotive, chemical processing and industrial sectors.

Looking for a seal for your application? Talk to us about the FKM solution that will provide you with the highest operational efficiency, reliable performance and peace of mind.
Viton™ is a registered trademark of The Chemours Company FC LLC
(https://trademarks.justia.com/720/47/viton-72047494.html )